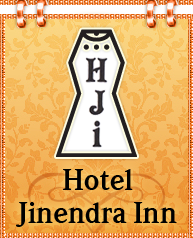 A message from the hosts

Welcome to the Hotel Jinendra Inn an elegant residence! On entering our gates you will immediately feel the warm and care of a family run place as you are personally received by your hosts: We encourage our guests to feel "at home" in this comfortable atmosphere for this is our home. With just nine rooms, you can look forward to enjoying the coziness of a family home coupled with the comfort of a luxury hotel.

Ethnic delicious Indian meals at Hotel Jinendra Inn are cooked freshly to order after discussing your requirements with you. Food can be taken in the dining room or at the Restaurant.

Hotel Jinendra Inn

is an India-based international standard quality hotel. Situated in Jaipur, the capital of the Indian state of Rajasthan, the picturesque and serene environs are symbolic of the rich Indian heritage. Developed by………….from their ancestral family home.

Guest is God

Hotel Jinendra Inn is a classic style budget hotel in Jaipur with some of the most exclusive and beautiful heritage interiors and ambience you can find in Jaipur.

Other Hotel

Hotel Abhinandan Inn

(For further details - Please Visite: www.hotelabhinandaninn.com )

Hotel an Inn having a 27 rooms believes in providing 'the best' for its guests. The vast range of services is at par with services available in big luxury hotels of any part of the world. Comforts and facilities that guests require in a quality hotel. Drawing on this experience the services have been developed, matching the highest international standards and offering excellent value for money.

No-one visits Rajasthan without taking home superb memories, a swag of folk art and a helluva lot of grit in the eye.

Making your trip to Jaipur memorable is what we strive for. We have the facilities of 3 star , backed by a personalized attention that's hard to beat.

Hotel Abhinandan Inn offers a wide range of personalized services and facilities to help make your stay in Jaipur a memorable one.

The hotel has a delectable range of Indian cuisine on offer. Enjoy the food prepared for you by our traditional cooks while absorbing the traditional ambience of our cozy and private dining room. You could also choose to sit outside and eat while enjoying a puppet show.